Here is a not so clear picture of one of the double occupancy rooms. It's complete with a private bath. You may have these rooms privately or share with a friend or.... whatever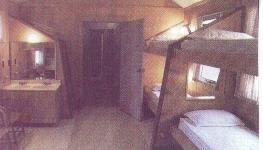 When you read information about the cabin facilities, the picture above is what you can expect to see with "cabins." There are bunk beds in these cabins, if you need cots, there will be a 10.00 extra charge for the weekend. Let us know if you would like that option. So far, no one has wanted to admit they were too old to get on the top bunk LOL!!!
These facilities do come with showers.


Although the picture above does it NO justice, this is a picture of the outside amphitheater. It overlooks the lake from a different angle entirely. I can't say how many it seats, but the "pulpit" area is made of stone. It's an increible experience especially and dusk and dawn. Anyone would be more than welcome to hold a class of any sort here or give any sort of instruction. It would even be a beautiful place for individual or group meditation/ prayer.


One of the beautiful Summit bridges :)